A simple, free tool to help you read books, manuals, magazines, and probably lots of other things.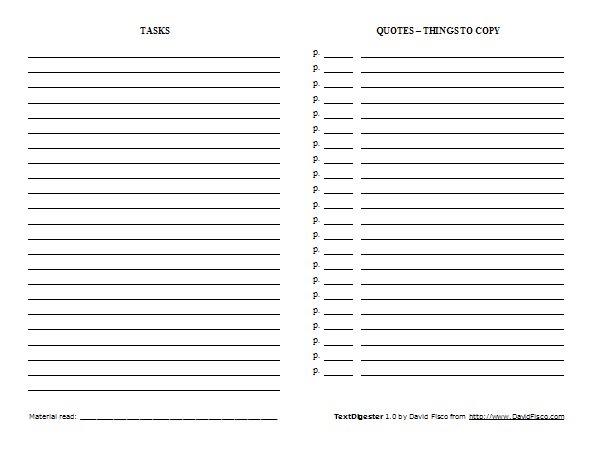 TextDigester: Front

What is TextDigester?
TextDigester is a simple, free tool that will help you read more effectively. (It doubles as a bookmark.)

Who should use TextDigester?
Anyone who wants to read more effectively. Text Digester can be used to help you read books, manuals, magazines, and probably lots of other things.

How do I get TextDigester?

Download the file in either OpenDocument format or PDF.
Print the file. Be sure to print it double-sided and in landscape mode. Since you should use a new TextDigester for each item you read, you may want to print a stack at a time.
Fold the paper so it looks like a booklet.

How do I use TextDigester?
When you begin reading new material, grab a blank TextDigester and fill in the "Material read" and "Date reading began" fields.

TextDigester allows you to make a permanent record of how you will break down the material you are reading. By recording this information, you get it off your mind, allowing you to concentrate on finishing your reading as quickly and effectively as possible. TextDigester contains four major sections: Quotes--Things to Copy, Tasks, Vocabulary and Further Research.



Quotes--Things to Copy
If you keep a list of your favorite quotations, or want to store some of the text you are reading in a special place, enter a note about it here. This makes a permanent record of your intent to store some text. It's very handy if you are reading borrowed material, but need to retain quotations for research.

Tasks
Let's say you are reading some fiction and the main character goes clothes shopping. That reminds you: you need to buy a new pair of jeans. Don't let that thought hang on your mind as you try to read. Write it down and get back to reading, full steam ahead.

Vocabulary
This category exists to improve your vocabulary. With over 500,000 words in the English language, you won't know all you come across. If a word gives you problems and you'd like to master it, jot it down here and learn more about it later. (Of course, if you can't understand the material without looking up the word, you will need to stop reading and grab your dictionary.)

Further Research
Reading begets more research. When you come across something you want to explore further, jot it down here and explore it later.


When you're not reading, TextDigester doubles as your bookmark.

When you have finished reading your material, it's time to use TextDigester. Copy and store the quotes, perform the tasks, do your further research and master the vocabulary.

Who created TextDigester? How can I contact the creator?
David Fisco created TextDigester. Feel free to contact him.

Will TextDigester be updated?
Possibly. All updates will be available on this site.

Don't just read; digest. Have fun with TextDigester!